Streamed live on Friday, December 10, 2021 from the First Church of God CLC in Evanston, IL — A National town hall meeting, "Building a Local Reparations Movement" hosted in partnership with the National African American Reparations Commission (NAARC) and FirstRepair.
Special Guests
Danny Glover, Actor, Activist, U.N. Ambassador, San Francisco, CA
Eric Philips, Vice-Chairman, CARICOM Reparations Commission, Guyana, South America
Congresswoman Sheila Jackson Lee, Lead Sponsor, HR-40, Houston, TX
Host
Pastor Monte Dillard, First Church of God
Moderator
Nkechi Taifa, Esq. President, The Taifa Group, Washington, D.C.
Other Participants
Judge Lionel Jean-Baptiste, Evanston, IL
Rev. Dr. Michael Nabors, President of Northshore NAACP
Dr. Julianne Malveaux, Inaugural Dean, Ethnic Studies Department. Cal State LA
Kamm Howard, National Co-Chairman, N'COBRA, Chicago. IL
Vanessa Hall Harper, Councilwoman, Tulsa, OK
Peter Braithwaite, Councilmember, Evanston, IL
Henry Wilkins, Education Reparations Committee Chair
Robin Rue Simmons, Executive Director, FirstRepair, Evanston, IL
Dr. Ron Daniels, Convener, National African American Reparations Commission, New York, NY
See Flyer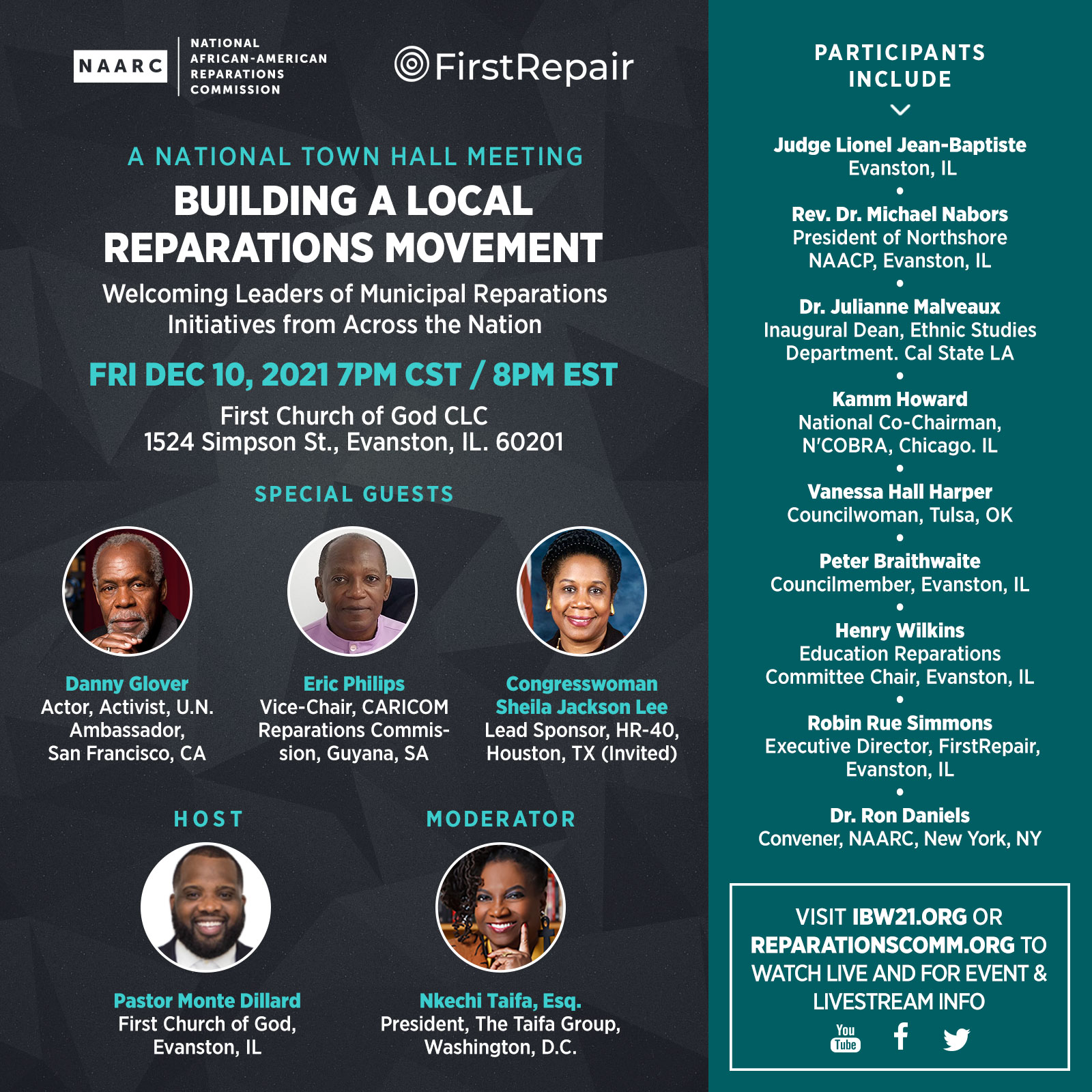 ---
About The National African American Reparations Commission (NAARC)
Convened by The Institute of the Black World 21st Century (IBW21), NAARC is a group of distinguished professionals from across the country with outstanding accomplishments in the fields of law, medicine, journalism, academia, history, civil rights and social justice advocacy.
Website: https://reparationscomm.org/
Reparations Plan: https://reparationscomm.org/reparations-plan/
Donate: https://reparationscomm.org/donate/
Email Sign Up: https://reparationscomm.org/sign-up-form/
Facebook – https://www.facebook.com/naarc/
Twitter – https://twitter.com/ReparationsComm
Instagram – https://www.instagram.com/reparationscomm/
LinkedIn – https://www.linkedin.com/company/naarc/
---
About FirstRepair
FirstRepair was founded by Robin Rue Simmons, a former Evanston, Illinois alderman and the architect of the nation's first government-funded reparations program. Robin's "solutions only" leadership style has inspired the services of FirstRepair including sharing best practices, creating tools, and developing a viable model to advance local reparations policy. Our knowledge network includes seasoned experts and social innovators with a proven commitment to reparations, racial justice, and Black community empowerment. Our services will include workshops, educational symposiums, research, stakeholder development and policy design for local government bodies and institutions.
Website: https://firstrepair.org/
Facebook – https://www.facebook.com/FirstRepairOrg
Twitter – https://twitter.com/FirstRepairOrg
Instagram – https://www.instagram.com/FirstRepair/

---
Join our email mailing list