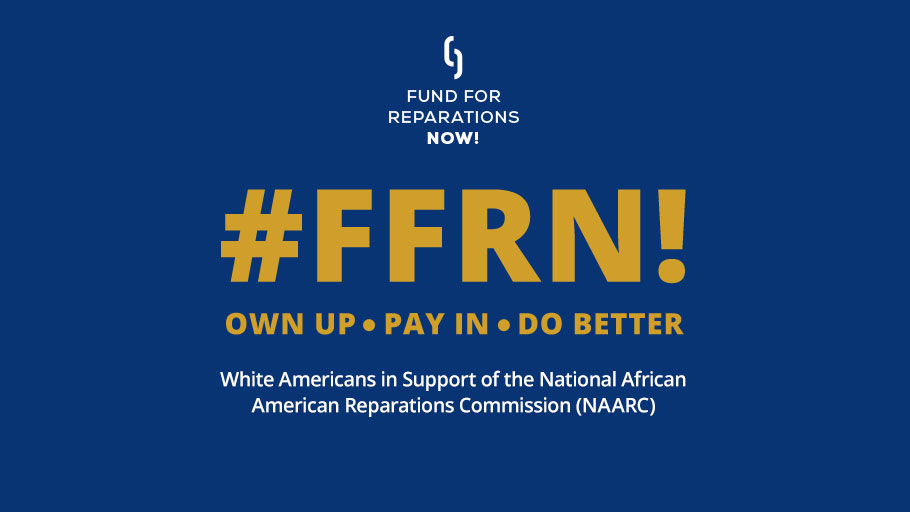 Los Angeles, CA — As support for reparations for the descendants of enslaved Africans in America continues to build momentum across the country, David Gardinier, a Los Angeles-based racial justice activist, has assembled a group of like-minded White progressives to launch the Fund for Reparations Now (FFRN).
The objective of this ambitious Initiative is to support the work of the National African American Reparations Commission (NAARC) and its 10-Point Reparations Program and to advocate for HR-40, the bill to establish a Presidential Commission to Study and Develop Reparations Proposals for African Americans. HR-40 is now working its way through Congress and enjoys the support of several Democratic presidential candidates.
As part of the launch, the group has issued a public apology which states, in part, "The time has come for White Americans of conscience and good will to step forward with courage and determination to fight the twin cancers of white supremacy and white privilege. We must use our individual and collective resources to support reparatory justice proposals now…
"We recognize that offering reparations is a powerful act of reuniting with our own humanity and that acknowledging our benefit and complicity with the culture of white supremacy and white privilege is a crucial step in the reparatory justice process; one which will lead to restitution, repair and restoration for African American families and communities."
Gardinier, Founder and Coordinator of the Group said, "this necessary reckoning with the sins and crimes of the birth of this nation will be liberating for our African American sisters and brothers and will contribute to the healing of our country. Accordingly, we fully commit to working within the White American community to tell the true story of enslavement, one of America's 'original sins,' and seek to repair the damage and harm inflicted by this horrendous crime against humanity."
Dr. Ron Daniels, Convener of the National African Reparations Commission (NAARC), applauded Gardinier and his group for having the courage and commitment to proactively address "one of the greatest moral issues in the history of this country; a cause that should transcend ethnic, cultural, political and religious differences."
As the nation reflects now on the 400th anniversary of the arrival of the first kidnapped Africans to Virginia in 1619 who were later enslaved, the Fund for Reparations Now is calling for at least 1000 persons of good will to make a one-time tax-deductible contribution of $400 to the Fund. In addition, those supporters who designate their $400 as a recurring/sustaining donation for at least one year will be honored as members of the Harriet Tubman Circle of Sustaining Contributors and will receive a Certificate of Recognition and Appreciation.
As the initiator of the Fund, Gardiner has already made that financial commitment and will be awarded a special certificate as the Charter Member of the Harriet Tubman Circle of Contributors.
Dr. Daniels indicates that tax-deductible donations to the Fund for Reparations Now will be set-aside to implement specific reparatory justice projects in NAARC's 10 Point Reparations Program. He suggested that restoring and preserving "sacred sites" as outlined in Point Nine of the Reparations Program could be the first project to be implemented.
"We commend David and the Group he has organized for launching this powerful Initiative," Dr. Daniels stated. "It has the potential for creating a vehicle for thousands, if not millions, of White Americans to participate in the process of repairing the harm inflicted on people of African descent by enslavement and post-emancipation racially exclusionary policies and practices."
Commenting on the ultimate goal of appealing to Whites to donate to the Fund for Reparations Now, Gardinier said: "Since the inception of the holocaust of enslavement, in the spirit of William Lloyd Garrison and John Brown, there have always been a few people of European ancestry willing to voice opposition to this crime against humanity and the evils of racially exclusionary policies, however, the outcry has never been sufficient.
"But, perhaps, this generation, my generation, can mobilize a critical mass of Whites of conscience and goodwill to make this a defining moment, a tipping point in the quest to repair the harm inflicted on African Americans as we collectively seek to create a more perfect union. The time to act is now!"
For more information about the Fund for Reparations Now visit www.fundforreparationsnow.org. Also, note that Dr. Ron Daniels and Mr. David Gardinier are available for media interviews.
Visit FFRN Website
---
About David Gardinier: David Gardinier is a White American who is working to build a healthy anti-racist White identity both within himself, and with the White people in his community. Originally from Spokane, WA, he now lives in Los Angeles, CA, where he is an active member of the Alliance of White Anti-Racists Everywhere (AWARE) – LA. Over the years, he has come to see reparations work as his highest calling, and is eager to see the payment of formal reparations to African Americans within his lifetime.